©Joseph R. Tomelleri
Gila Trout
The Gila Trout is one of the rarest trout species in the United States. The extent of the historical distribution of the Gila Trout is not known with certainty. It is known to be native to higher elevation streams in portions of the Gila River drainage in New Mexico, San Francisco River drainage in Arizona and New Mexico, and tributaries to the Gila River in Arizona. By the 1950s, however, its range was reduced to only four streams in the Gila River headwaters in New Mexico, and none were found in Arizona. The Gila Trout was listed as federally endangered in 1967 and re-classified as threatened in 2006 after efforts to restore populations were successful. Currently, there are 17 populations of Gila Trout in the wild.  Additionally, the Mora National Fish Health and Technology Center (U.S. Fish and Wildlife Service) maintains captive populations of all four Gila Trout lineages. Gila Trout can grow to about 17-18 inches and are yellowish-brown, gold or copper.
Fishing for Gila Trout was once restricted under its status as an endangered species. The down-listing to threatened in 2006 includes a special provision that allows the states of New Mexico and Arizona to manage the species as a sportfish in select areas for the first time in almost 50 years. Guidelines have been developed to allow for limited sport fishing in specific waters where stocking of non-native trout was replaced by stocking of Gila Trout. Most restoration streams continue to be protected from angling. However, allowing for limited angling for a unique native species can increase public knowledge and support for its conservation. Such support may come from both sport fishing enthusiasts and private landowners that might benefit from allowing access to fishing on their property. Involvement from the general public and landowners provides opportunity for increased Gila Trout restoration and should result in a conservation benefit to the species. The U.S. Fish and Wildlife Service and the State wildlife and fisheries management agencies responsible for establishing fishing regulations work to ensure that angling pressure does not prevent, but enhances, progress toward full recovery. Gila Trout angling will continue to be managed by the States as long as the population remains above the recovery threshold.
---
Between 2007 and 2018, the Western Native Trout Initiative has provided $476,875 in funding to 10 projects in Arizona and New Mexico to benefit Gila Trout conservation.   Projects have ranged from barrier construction/restoration to keep non-native trout out of conservation waters, habitat assessment after catastrophic wildfires, and public outreach and education.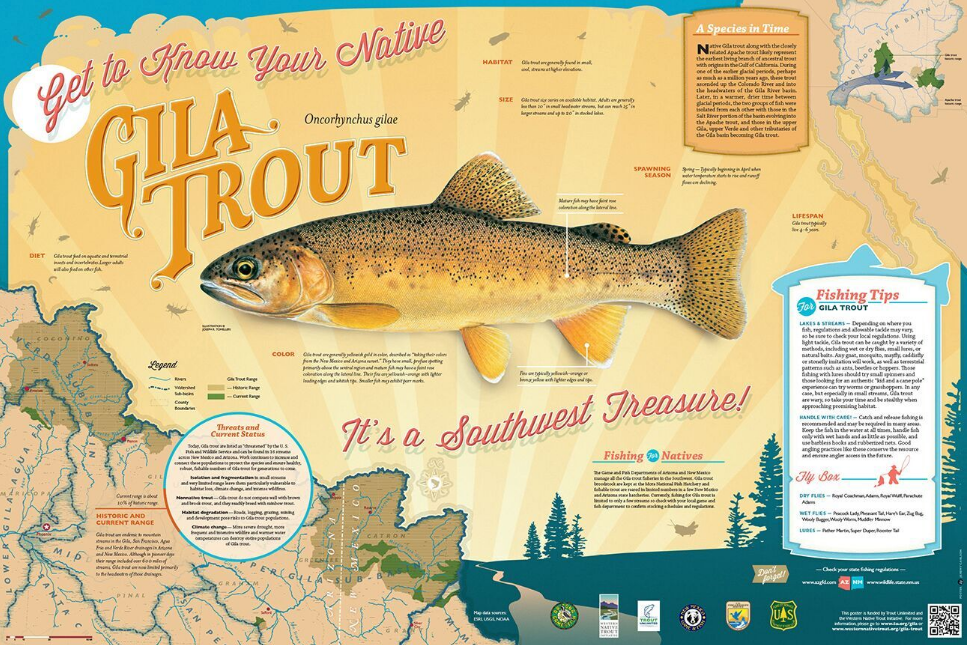 Gila Trout Photo Gallery 
These four photos were taken by Dustin Myers, U.S. Fish and Wildlife Service, during the Gila Trout population and stream assessment projects in 2013 and 2014 after the Whitewater Baldy forest fire.
---
The photo below was taken by Craig Springer, U.S. Fish and Wildlife Service
---
---
The Gila Trout photo below is provided by Tyler Coleman @thecolemancollection
---
---
Below: New Mexico Dept. of Game and Fish Gila Trout biologist, Jill Wick, holding a Gila Trout.  Photo courtesy of New Mexico Dept. of Game and Fish.