©Joseph R. Tomelleri
Redband Trout
Redband Trout are subspecies of the rainbow trout and exist in two well-defined geographic regions. The Columbia River Redband Trout is found in Montana, Washington, and Idaho, and the Great Basin Redband Trout is found in southeastern Oregon and parts of California and Nevada. The Redband Trout is similar in appearance to the rainbow trout but has larger, more rounded spots and parr marks that remain into adulthood. They generally grow larger than 10 inches. Redband Trout that live in streams tend to have profuse large spots over their bodies and fins (except pectoral) and frequently have an orange cutthroat mark under the jaws. They have a rosy red stripe along lateral line to a brick red lateral band (especially in spawning males) and tints of yellow or orange along the ventral region. Gill covers can also be brilliant red.
Six states, four federal agencies, five tribal governments and one non-governmental organization signed a Rangewide Conservation Agreementfor Interior Redband Troutin July 2014, agreeing to work together to conserve and protect habitat for this unique trout.  The Conservation Agreement for interior Redband Trout is an example of the power of a partnership among state and federal fish and wildlife agencies and tribal nations that has been ongoing since 2009. Western Native Trout Initiative is proud to have been involved in the partnership, convening 13 workshops to complete a comprehensive status review for Redband Trout in partnership with the state fisheries agencies of California, Idaho, Montana, Nevada, Oregon, Washington, U.S. Fish and Wildlife Service, U.S. Forest Service, Bureau of Land Management and 11 tribal nations, as well as representatives from private companies. The project was funded through a grant from the National Fish Habitat Action Plan and matching funds from the partnering organizations through the Western Association of Fish and Wildlife Agencies. When the entire project was complete, the final results involved the expertise of upwards of 95 biologists and ArcGIS technical experts and 15 data entry personnel.  Protecting this fish is a big job and we congratulate all our partners!
---
Between 2007 and 2018, the Western Native Trout Initiative has contributed over $831,132 to 25 projects benefiting Redband Trout, including catalyzing and leading the effort to complete the first-ever range-wide assessment and status review mentioned above.  Other funded projects have been diverse –everything from genetic analysis, telemetry surveys, culvert renovation, levee removal, road relocation, fish ladders, fish screens, streambank stabilization, large watershed improvement projects and outreach/education efforts.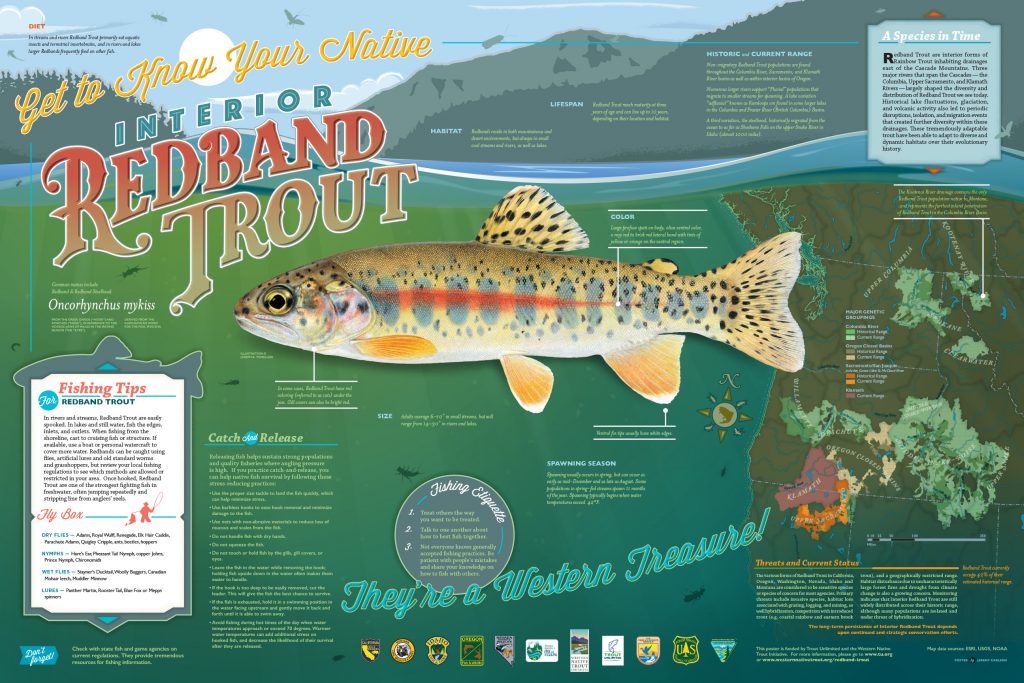 ---
ADDITIONAL RESOURCES
READ MORE about the conservation strategy for interior Redband Trout in California, Idaho, Montana, Nevada, Oregon and Washington (Nov 2016).
CLICK HERE to read the 2015 Status and Conservation of Interior Redband Trout in the Western United States, North American Journal of Fisheries Management, 35:1, 31-53, DOI: 10.1080/02755947.2014.951807.
READ the final report for the six year Great Basin Redband Trout genetic assessment (which received funding from WNTI in 2012).
---
Redband Trout Photo Gallery
The photo below was taken in Rock Creek (Upper Klamath Basin) during an Oregon Department of Fish and Wildlife restoration project.   Photo credit:  Dave Hering, National Park Service.
---
The photos below of Columbia River Redband Trout are provided courtesy of the Washington Department of Fish and Wildlife.  The Columbia River Redband Trout is native to the Columbia River drainage east of the Cascade Mountains. Their known distribution extends upstream as far as barrier falls on the Snake, Spokane, Pend Oreille, and Kootenai rivers. There is considerable variability in the life history of Columbia River Redband Trout, including fish that migrate to the ocean and those that migrate solely within fresh water.