The National Fish Habitat Partnership 10 Waters to Watch list, assembled by the nation's leading authorities on aquatic conservation, is a collection of rivers, streams, and shores that will be cleaner and healthier habitats for the many fish and wildlife species and people who call these areas home. Thanks to the combined actions of concerned community groups, non-profit organizations, local watershed groups, Native American tribes and state and federal agencies, these waters are being improved by planting stream-side vegetation, removing structures blocking fish from habitat and protecting bodies of water from the effects of industrial processes, agriculture, and livestock. They are representative of freshwater to marine waters across the country including lakes and reservoirs that are improving through the conservation efforts of the National Fish Habitat Action Plan — a bold initiative to reverse persistent declines in aquatic habitat.
2018 Deep Creek- Town Diversion Fish Passage Project (Oregon)
The Deep Creek – Town Diversion Project will complete a fish passage solution for a diversion dam that has been an upstream fish passage barrier for likely over 100 years. Restoring fish passage for Warner Lakes Redband Trout and Warner Sucker is the focus of this project. The primary limiting factor for fish in the Warner Valley Watershed (Oregon) is passage at irrigation diversion structures, especially on Deep and Honey Creeks. Limited water in the eastern Oregon desert means that Warner Basin streams are a critical water source to both irrigators and native fish. The diversion will be reconstructed with a rock ramp fishway designed to restore natural streambed conditions and provide passage for all native fish over the irrigation structure. The goal of the Town Diversion Fish Passage Project is to provide volitional passage for these two species, as well as other native fish species inhabiting lower Deep Creek.
---

2017 Boundary Creek (Oregon)
The John Day River, as one of the longest undammed rivers in the United States, provides essential habitat for a variety of anadromous fish and native federally listed endangered or threatened species of trout.This project will improve fish passage and riverine connectivity in the Granite Creek Watershed which is a high priority watershed located in Eastern Oregon. The project targets 3 specific sites on Boundary and Corral Creeks, which are located east of the rural town of Granite in the Wallowa-Whitman National Forest. These streams are critical spawning and rearing habitat for Endangered Species Act designated threatened Bull Trout.
---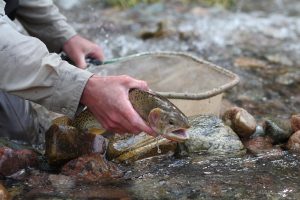 2016 Weber River, (Utah) Legacy project
The Western Native Trout Initiative and Desert Fish Habitat Partnership first nominated the Weber River project in 2012 as a "10 Waters to Watch".  The project was recognized again in 2016 as a legacy project – denoting it as a project that has made a significant impact on fish habitat conservation.  Legacy projects are selected from previous years Waters to Watch projects and help to highlight the National Fish Habitat Partnership as it celebrates its 10-year Anniversary in 2016.
---
2015 Sun Creek (Oregon)
Sun Creek originates on the southern slopes of Crater Lake National Park (CLNP) and was historically a tributary to the Wood River in the Upper Klamath Basin.  Due to agricultural land use, there have been extensive channel alterations over the last century and Sun Creek is no longer connected to the Wood River. This project will reconnect Sun Creek to the Wood River, creating a migratory corridor for an isolated Bull Trout population and expanding available habitat for Redband Trout already present in the Wood River.  This project represents a highly successful collaboration between federal, state, tribal, non-profit, and private entities.
Watch a video produced by the U.S. Fish and Wildlife Service about this project.
Project fact sheet: Klamath Basin Rangeland Trust
---
2014 Bear Creek (Colorado)
The Western Native Trout Initiative (WNTI) funded Phases I and II that provided short-term immediate relief for sediment issue on Bear Creek in 2010 and 2011. These projects were meant to protect the Bear Creek cutthroat habitat until a broader sediment control plan was in place. In 2013 WNTI funded a portion of Phase III, which, coupled with a National Fish and Wildlife Foundation grant, will provide permanent sediment control for the Bear Creek Greenback Cutthroat Trout, which have been recently considered the only remaining population of true native Greenback Cutthroat trout.
---
2012 Weber River (Utah)
This project is intended to protect native fishes and improve water use efficiency for water companies in the Weber River drainage. It will re-connect 17.5 total river miles and allow native trout and sucker species to pass one mainstem diversion and two culvert barriers in two tributaries. Habitat fragmentation is the primary threat to the persistence of the Bonneville Cutthroat Trout population. These barriers have fragmented mainstem and spawning habitats. Restoring connectivity at these sites is a critical step towards improving the resiliency and genetic diversity of this population.
---